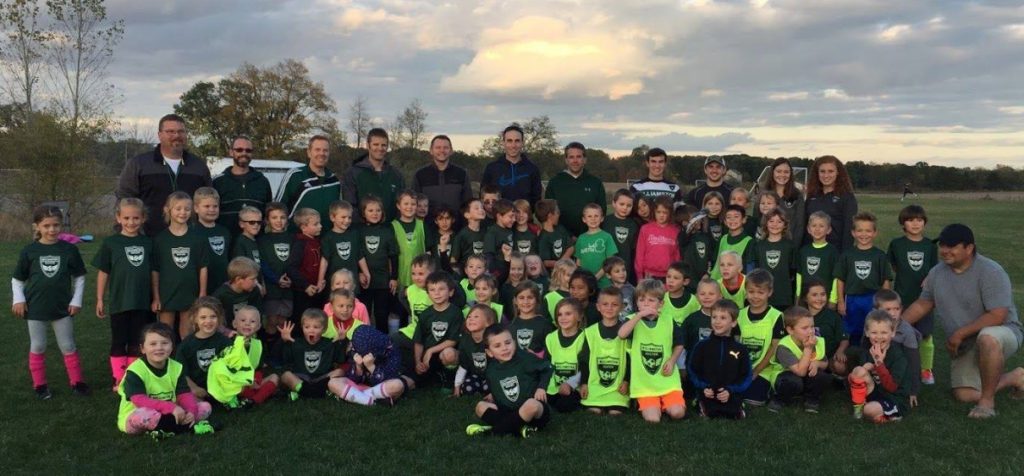 The Williamston Soccer Youth Academy is an instructional soccer program that aims to develop the love of the game along with individual skills of players in grades K-2. The Academy is intended to be an enjoyable introduction to soccer, helping players learn the game in a fun and developmentally appropriate environment. We created this program to give our youngest players a great head start playing the game we love to teach!
The Youth Academy consists of two programs:
Youth Academy for Beginners (K, 1st Grade)
This program is 5 weeks long in both the fall and spring. Players in the Youth Academy for Beginners will attend two training sessions per week with a combination of CASL team coaches, high school player assistants, and volunteer parent-coaches. All sessions include a small-sided scrimmage for players to start applying their newly learned skills in a low-key, non-competitive environment.
Program cost is $50 for one season only (i.e. Fall 2019), and includes a training t-shirt.
Registration for Fall 2019 will begin in August 2019.
Youth Academy CASL Teams (2nd Grade)*
After a few years of Academy experience, players will be ready for the challenge of playing competitive games against other Capital Area youth soccer teams. In this program, players will continue their weekly training regimen with the Academy program in the Fall season, but will also be registered as a team in the Capital Area Soccer League (CASL) for competitive play during the Spring season. Player development is still fundamental to the program. This is also an opportunity for our coaching volunteers to get a taste of what it means to be a volunteer coach for the full season in our Youth CASL Team program for 3rd grade and beyond.
Program cost is $125, covering CASL registration fees, referee fees, and field maintenance. Fees do not include the cost of uniforms, which will consist of a jersey, shorts, socks, and training shirt (approximately $75-100).
Registration
Registration for the Youth Academy CASL Teams is now open. See http://williamstonsoccer.com/youth-casl-teams-registration-for-fall-2019-spring-2020/ for more information.
* new program for Fall 2019
Spring 2019 Schedule
The spring season starts after spring break and ends in early May. Our training days are below. Training will be from 5:30pm – 6:30pm. Training this spring will be at Williamston HS, located at 3939 Vanneter, Williamston, MI 48895.
Spring Training Dates:
April 9, 10, 15, 17, 23, 24, 30
May 2, 7, 9
For more information, see Youth Academy Spring 2019 Training Schedule
Volunteer Coaches Needed
When the players complete the Academy program and move into playing with our Williamston Soccer CASL teams, coaches will be needed for those teams. The Academy is a great way to get introduced into coaching. Practice plans for each session are provided. You don't need to be a soccer expert to be a coach. If you are interested, please let us know!!
If you have any questions, please send an email to worn08@hotmail.com or call 517-402-3667.