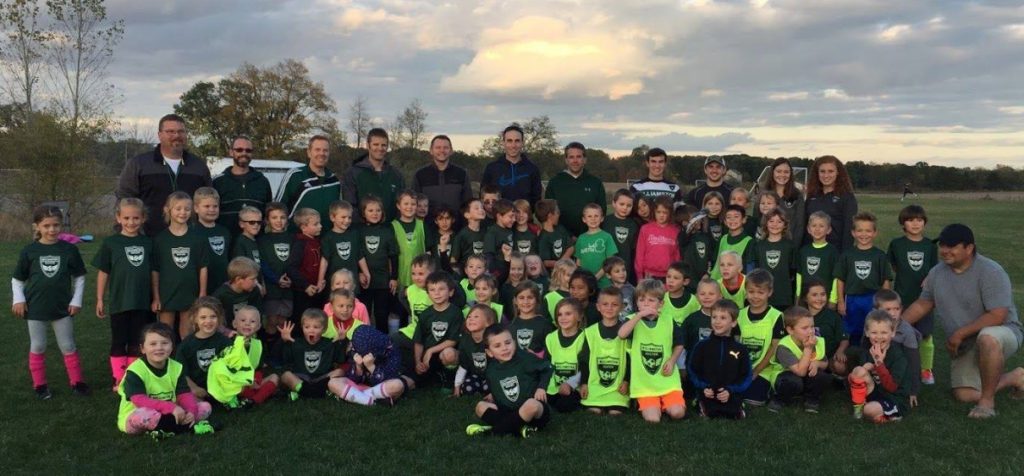 What is the Williamston Soccer Youth Academy?
The Youth Academy is an instructional soccer program that aims to develop the love of the game along with individual skills of kids in grades K-2. The program is 5 weeks long in both the fall and spring. The program is intended to be an enjoyable introduction to soccer, helping players learn the game in a fun and developmentally appropriate environment. We created this program to give our youngest players a great head start playing the game we love!
Program Details for Spring 2021
We are always listening to feedback from our past players and parents to help create a lasting, successful program. For Fall 2019, we decided to add a sense of playing in "real" games for the players. We had a tremendous amount of positive feedback, so we'll be doing that same format again this season.
We'll be having five training sessions on Wednesdays, and five intra-Academy games on Saturday mornings. These games will be focused on player development – no results will be kept, no awards will be handed out – so the players will get to have fun in a way that gets them ready for competitive matches as they get older.
Who are the coaches?
You! We need parents or other volunteers to help us have a successful season. We'll give you everything you need, including a training curriculum for running sessions and help from our high school players in demonstrating activities and organizing the players.
When the players complete the Academy program and move into playing with our Williamston Soccer CASL teams, coaches will be needed for those teams. The Academy is a great way to get introduced into coaching.
As a thank you, our volunteer coaches will be eligible to receive a refund of the registration fees for one player. You don't need to be a soccer expert to be a coach. If you are interested, please let us know by selecting to volunteer during the registration process, or just email williamston_soccer_club@yahoo.com
What is the schedule?
Session location is still to be determined.
Training: Schedule TBD
Games: Schedule TBD
Specific dates for Spring 2021 are to be determined
What to expect for the program?
As mentioned above, the program is designed to be fun but also instructional. We have a written curriculum that each coach is going to follow and a developmental plan for the program. All sessions are designed to be fun for the kids while teaching fundamental skills that are necessary to be successful at later ages. At the end of the five weeks, we aim to see a definite improvement in your child's soccer skills as well as an increased interest to play and learn the game!
What to expect on the first day?
When you arrive, all players will need to check-in. We will have a table setup for check-in and there we will collect waivers and hand out t-shirts. Every player will be assigned to a field. After checking in, please feel free to go over and introduce yourself and your child to your coach.
What to expect after the first day?
After the first day your child will be able to go straight to their assigned field. You can set up near by and watch the training session.
What do I bring to every session?
Each player will need to bring the following things to training:
Ball

5 and 6-year olds use a size 3 ball
7 and 8-year olds use a size 4 ball

Soccer cleats or tennis shoes (please no sandals, or boots)
Water
Shin guards
What is the cost of the Youth Academy?
K-1st grade
$55 for the Fall 2020 season only. A Williamston Soccer training t-shirt is included in the fee. Payment is collected during the registration process.
2nd grade
$130 covering both the Fall 2020/Spring 2021 season. A Williamston Soccer jersey for game competition is included in the fee. Payment is collected during the registration process.  $35 deposit due during registration, balance due before beginning of play in the fall.
What is the offering for 2nd grade players?
With a few years of Academy experience under their belts, players will be just about ready for the challenge of playing competitive games against other Capital Area youth soccer teams.
In the Fall season, 2nd grade players will continue their weekly training regimen with the Academy program, developing the skills and having fun with their classmates.
Over the winter, these players will also be registered as one or more teams in Eastside Soccer and/or CASL for competitive play during the Spring season. Player development is still fundamental to the program.
This is also an opportunity for our coaching volunteers to get a taste of what it means to be a volunteer coach for the full season in our Youth CASL Team program for 3rd grade and beyond.
Where do I register?
Registration is closed.
Other questions?
If you have any questions, please feel free to contact us at williamston_soccer_club@yahoo.com